27 Jul

What can companies expect from the INDUCE methodology – Interview with an INDUCE Trainer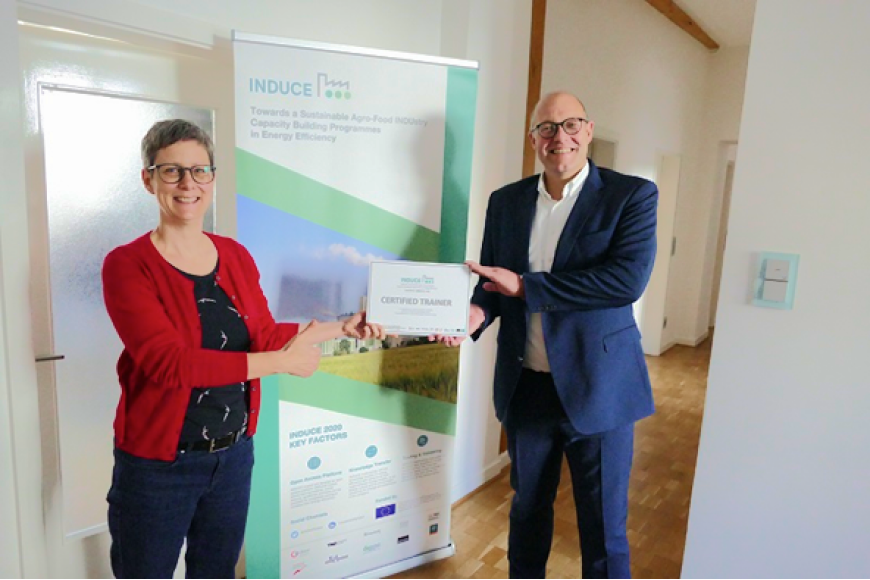 Sabine Höfel, Food-Processing Initiative e.V., handing over the certificate to Tobias Peselmann, general manger pbrNETZenergie GmbH
The Train the Trainer workshops were carried out in Germany in March 2020. Tobias Peselmann, general manager of pbr NETZenergie GmbH was one of the attendees. Sabine Höfel, project manager at Food-Processing Initiative e.V. and consortium member of INDUCE interviewed him about his experience as a German trainer of the INDUCE methodology.
Sabine Höfel: Why did you decide to attend at the "Train the trainer" workshop?
Tobias Peselmann: As a strong networker and being in contact with FPI for many years, the potentials and benefits of the INDUCE methodology were clear to me from the very first moment. I instantly saw the advantages for our customers so it was an easy decision to sign up for the workshop.
The INDUCE methodology is built on three pillars: people, organization, and technology. Where do you see the best potential for food and beverage companies to enhance their resource efficiency?
For many years, technical efficiency is handled very consequently for economic reasons. Currently food and beverage companies are taking a closer look at what has been neglected in recent years, namely personnel and organization. This means to me that companies have recognized that there is quite an efficiency potential to be discovered and realized. The INDUCE methodology clearly focuses on these pillars.
Where do you see the highest added-value for the companies using the INDUCE tools?
Firstly, companies get a very good overview of their energy performance. Secondly, they get a tool with which they can fulfill the requirements of the energy management system faster, easier, and more efficient.
Did you already use one or more of the tools to train a company? And if so which one did you use?
Yes, especially in the technical field tools have already been used. The feedback from the energy auditors was very positive.
How was the INDUCE methodology accepted by the companies?
First of all, companies usually are rather skeptical when applying new tools. But after they tested the INDUCE methodology, they instantly understood. These instruments will make their daily work easier with regard to technical and personal perspective.
You are one of the energy trainers in Germany trained on the INDUE methodology. What can companies expect if they give you a call?
A friendly voice and advice in the area of resources and energy efficiency. The main issue of pbr NETZenergie is to support companies on all topics related to energy efficiency. At first to be able to fulfill future requirements and also to handle the energy tax, that will be placed on energy consumption over the next few years in Germany.